Meet our Managing Director
" Mrs.  Ritu Bhandari first started this venture back in 2006 with a vision to provide the world an alternative to Plastic Products. She has been nominated for the Asian Business Women Award Middle East. Since then she has been actively performing towards her mission to create a sustainable Environment.
Here is an excerpt from the Gulfnews magazine of what she has to say:
"I arrived here (Abu Dhabi) in 1996, I noticed that there was paper being thrown into the garbage instead of being recycled – and so much plastic! Even today flimsy plastic grocery bags are everywhere as well as plastic cups for drinking water, plastic bowls, plates and cutlery … the list goes on!
Seeing this, I constantly thought about alternatives to these products, all of which decompose slowly. Every time I had the chance, I did research on environmentally friendly products. After a while, I started to realise that there were very few biodegradable products readily available in Abu Dhabi.
That was when I decided to open Green Gift Concepts. For about 18 months, I searched for suppliers of eco-friendly products. It was a laborious process. I looked for products made of recycled material and natural fibres that were also decorated and packaged using biodegradable materials. I finally opened the shop in 2005."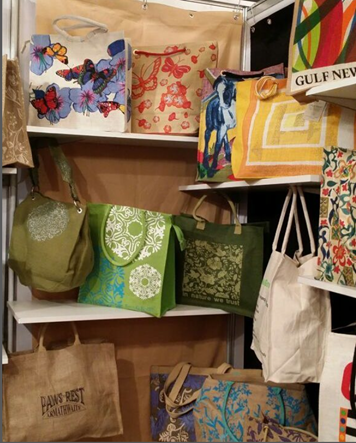 Started in 2006, Green Gift Concepts Est. embarked on a visionary journey with a noble mission at its
heart – to contribute significantly towards freeing our planet from the clutches of plastic pollution. With
a fervent commitment to environmental sustainability and a deep-seated passion for creating positive
change, Green Gift Concepts Est. has evolved into a pioneering force in the realm of eco-friendly
solutions. Our story is one of innovation, dedication, and a relentless pursuit of a greener tomorrow.
The inception of Green Gift Concepts Est. was rooted in the realization that a huge amount of plastic was
wreaking havoc on the delicate balance of our ecosystems. Witnessing the dire consequences of plastic
pollution, our founders were spurred into action, determined to be part of the solution rather than
contributing to the problem. Thus, our journey began, marked by a resounding commitment to offering
alternatives that were not only practical but also aligned with our planet's well-being.
"Our Journey towards this goal was not easy. Initially we had a lot of hurdles because the mindset of
majority of people was not the direction of saving the environment. People often used to say that its not
there problem it is the municipalities but we held many seminars, roadshows to start educating people
about the environment problems and the solutions we are providing along with distributing free
biodegradable products. We slowly started providing availability of such products in well known
hypermarkets and stores and slowly slowly people started understanding this problem and started using
these products in daily life."
Today Our Products include a variety of Disposable Tableware, Jute Bags, BPA free Bottles , Kraft Paper
Products and Organic Candles.
These products are superior in quality and are made from biodegradable materials like sugarcane
bagasse and cornstarch which degrade in the soil as soon as it is disposed. Our guiding philosophy
revolves around the idea that every thoughtful gift can be a catalyst for positive change. We ventured
into uncharted territory, exploring innovative materials and designs that would minimize our carbon
footprint and maximize our impact.
At Green Gift Concepts Est., sustainability is not just a buzzword; it's a way of life that permeates every
aspect of our operations. Our dedication extends beyond our products and into our practices. From
sourcing raw materials with the lowest environmental impact to employing ethical manufacturing
processes, we uphold the highest standards of integrity and accountability. Our commitment to
transparency ensures that our customers can make informed choices, confident in the knowledge that
each purchase contributes to a more sustainable future.
But our journey doesn't stop here. The path ahead is illuminated by our unwavering determination to
push boundaries, challenge norms, and leave an indelible mark on the fight against plastic pollution. We
envision a world where the gift of giving is synonymous with the gift of sustainability, where every
product tells a story of conscientious choices and mindful living.
As we reflect on our remarkable journey from 2006 to the present day, we are humbled by the strides
we have made and the impact we have achieved. Yet, we are acutely aware that our mission is far from
complete. The challenges posed by plastic pollution are ever-evolving, and our resolve to combat them
burns brighter than ever. With each passing day, we reaffirm our commitment to innovation, education,
and advocacy, all of which are integral to our vision of a plastic-free Earth.